Self-Respect Weddings: A Feminist, Egalitarian Legacy From 75 Years Ago
When DMK leader MK Stalin met an aging Sampoornam in her cramped house last year, they spoke about her wedding which took place 75 years ago. She remembered it like it happened only a few days ago. This was no ordinary wedding ceremony. In fact, what was special was that there was no ceremony at all. It happened to be the first recognised Suyamariyathai (self-respect) marriage presided over by former chief minister and DMK leader CN Annadurai (Anna). Sampoornam passed away last week, but she leaves a legacy of social reform in marriage which continues till date.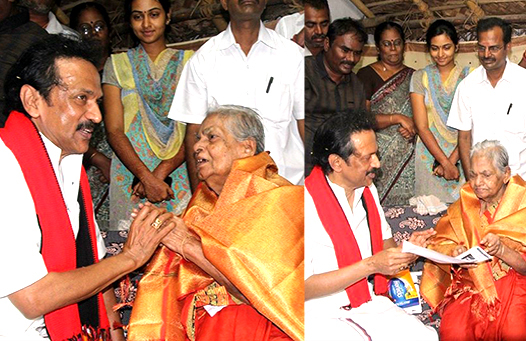 DMK leader MK Stalin with Sampoornam
Self-respect marriages were conceived and pioneered by the rationalist leader and Dravidian ideologue EV Ramasamy (Periyar). Periyar, aghast at the ceremonial rigour and Brahminical dictates that constitute typical Hindu weddings, decided to simplify ceremonies. He instructed people to shun traditional wedding ceremonies which revolved around incomprehensible Brahmin priests and mysterious Shastric customs. Periyar believed that there was no need for a priest to communicate with god through the medium of a "sacred fire", as the marriage only needs to be solemnised between the bride and groom.
Beyond his calculated assault on Brahminist hegemony lay a larger social goal of inter-caste marriage. He knew that a simple, straightforward marriage, devoid of caste-based rituals, would make it easy for inter-caste couples. Even Ambedkar shared the belief that inter-caste marriage was an essential component in the war on caste. Periyar presided over a number of such inter-caste marriages and personally supported couples who opted for the self-respect model.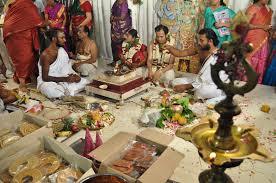 Hindu weddings are a compilation of rituals, sacred fire and priest(s)
A lesser appreciated aspect of the self-respect marriage is that it is true to the feminist ideals of Periyar. Most Hindu weddings require the bride to follow the groom around the fire and not the other way around; some require the feet of the groom to be washed, and the father to give away the daughter like she is his property. Periyar's self-respect marriages denounced all such regressive practices. He advocated total equality between the bride and groom.
The only requirements of the self-respect marriage are:
1. The bride and groom declare to take each other to be her/his husband/wife.
2. Each may exchange garlands or rings or tie the thali.
3. The wedding shall take place in the presence of friends or relatives or other persons.
Such self-respect marriages are different from regular Hindu weddings in that they do not have to be solemnised in accordance with customs and there is no priest. Typically, Hindu weddings include the Saptpadi ritual i.e. walking seven steps around the sacred fire. According to the Hindu Marriage Act, a marriage is "complete and binding" only "when the seventh step is taken".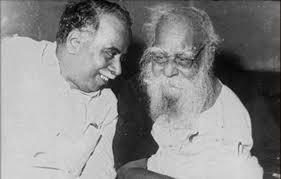 Former Tamil Nadu Chief Minister Anna with Dravidian Ideologue Periyar
In order to do away with baseless customs, the Government of Tamil Nadu under the Dravida Munnetra Kazhagam amended the Hindu Marriage Act. Then chief minister Anna sought inputs from Periyar before tabling the legislation. The Amendment Act (Number 21 of 1967), thus, made self-respect marriages an option for couples who did not want to go through with the customs and ceremonies of Hindu marriages. The same Act also had a retrospective effect, so that Sampoornam's marriage with Chinaiah, along with thousands of others, could be recognised and validated. Since then, lakhs of couples who have followed the Dravidian principles have opted for casteless and customless self-respect weddings.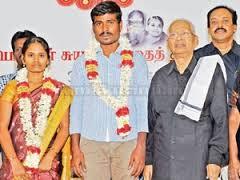 Self-respect weddings can be solemnized with just exchange of garlands
Today, Sampoornam is more than a self-respect marriage statistic. She is a pioneer of a thriving social reform movement in Tamil Nadu. The political raison d'être of the Dravida Munntetra Kazhagam is to achieve social change through the political process. When I see self-respect marriages being preferred by young people, I am proud that I belong to this long reformist tradition.